Piggly Wiggly #269 - River Run
3800 River Run Dr.
Mountain Brook, AL 35243
Phone: 205-776 -8755
Fax: 205-776 -8754
Store Hours
Mon-Wed: 6:00 am - 9:00 pm
Thurs-Sat: 6:00 am - 10:00 pm
Sun: 7:00 am - 9:00 pm
Complimentary Wine Tasting: Thursdays, 4:00 pm - 6:00 pm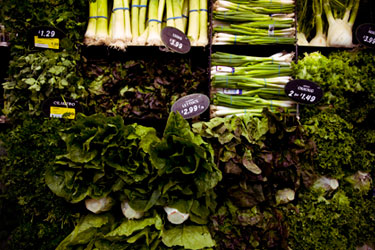 Our produce department has a large variety of items ranging from home grown to organic. We have the freshest leafy section available (as seen above) with many different types of lettuce. We offer grab and go cut fruit. Choose the precut or make your own fruit salad at the salad bar. Our salad bar has over 70 different items including specialty lettuce, pastas, fresh fruit and soups. We also have boiled peanuts.
Customize any purchaseby choosing as little or as much as you want. We also have fresh cut fruit and vegetable trays available in three different sizes.
Come try our salad bar and shop our produce department. If we don't have something you are looking for, just let us know and we will get it for you! We cater to your needs.