Piggly Wiggly #269 - River Run
3800 River Run Dr.
Mountain Brook, AL 35243
Phone: 205-776 -8755
Fax: 205-776 -8754
Store Hours
Mon-Wed: 6:00 am - 9:00 pm
Thurs-Sat: 6:00 am - 10:00 pm
Sun: 7:00 am - 9:00 pm
Complimentary Wine Tasting: Thursdays, 4:00 pm - 6:00 pm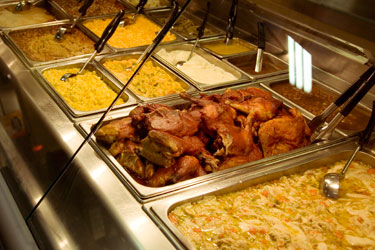 Click here to view our Deli Tray and Platter Menu
For your everyday or special occasion meals, our Delis have it all. From fresh fried or rotisserie chickens to fresh entrees and soups. Please check us out on Facebook for our most recent Daily Menu or call and speak to one of our Deli Managers to place your order.
Deli Hours are 6 a.m. - 10 p.m. M - F, 7 a.m. - 10 p.m. Sunday
Breakfast Served Daily
Lunch Hours: 10 a.m. - 2 p.m. Daily
Afternoon Meal Hours: 2 p.m. - 7 p.m. Daily