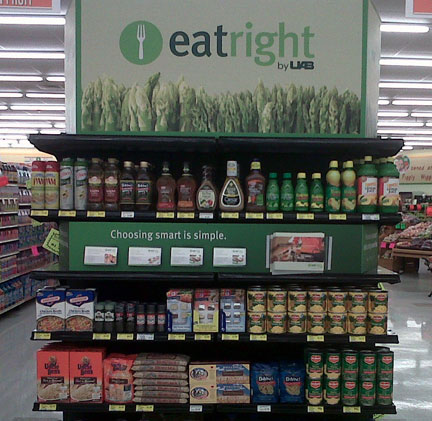 The EatRight Nutrition Guidance System is an exclusive food rating system designed by Dr. Jamy Ard to give consumers clear, concise, and valid information about healthy food options. The NGS program uses a 3-tier rating scheme to categorize foods based on nutritional content. Foods are rated as "Eat More Often", "Eat Less Often" or "Choose Occasionally" based on the saturated fat, sodium, fiber and added sugar content. "Eat More Often" foods should make up the majority of your diet every day. "Eat Less Often" foods are ones that you should eat 1-2 times a day and "Choose Occasionally" foods can be enjoyed 1-2 times a week.
In our 14 Piggly Wiggly stores, the consumer will find a green fork on the shelf tag of the "Eat More Often" foods to easily identify foods that should fill the majority of your shopping cart. These foods have a low energy density, meaning they have a low number of calories in each serving. These foods also are typically highest in nutrients and are associated with better health and prevention of chronic disease. The Nutrition Guidance System aims to help you make healthier food choices for your family at the point of purchase.
Foods that fall into the "Eat Less Often" and "Choose Occasionally" categories can be found in our recipes in each store and on our website. The EatRight end cap will display recipe cards and ingredients needed for each recipe. For more information and additional recipes, visit our website at www.eatrightbyuab.com.
In the News
Reading a food nutrition label is tough. How many servings is this? How much sodium? Wait, sodium is salt, right? Why don't they say so? Here's a number for total calories. And now calories from fat. What's up with dietary fiber? Help!

Would a system that makes it easy to understand which grocery store items are best for good nutrition be helpful? Try the EatRight by UAB Nutrition Guidance System, now available in Greater Birmingham Piggly Wiggly grocery stores.
"Look for a tag with a fork placed next to food items that the EatRight by UAB program has designated as 'Eat More Often' foods," says Jamy Ard, M.D., an associate professor of nutrition sciences and director of EatRight by UAB. "This is the icon that gives you the green light; it says this is something you should eat more often."
In 14 local Piggly Wiggly stores, the fork icon is on some 400 food items, in just about every food group: produce, lean proteins, whole grain foods, low-fat dairy products and more.
"Diet plans spend too much time telling people what not to eat," Ard says. "We'd rather suggest that people choose foods that they should be eating more often. If a food item has the Nutrition Guidance System fork symbol, it's a good choice."
EatRight and the locally owned Piggly Wiggly stores have a long history of cooperation, and the stores were eager to implement the NGS program.
"We're always looking for ways to enhance the shopping experience for our consumers. We didn't have a system to educate customers about good nutrition choices or the means to create one," said Andy Virciglio, co-owner of area Piggly Wiggly stores. "So when Dr. Ard came to us with the UAB EatRight NGS, it filled a void. And because it's from UAB, it has instant credibility."
Ard plans to expand the number of food items that are deemed worthy of the NGS fork to as many as 5,000 during the next year. The program also includes nutrition information, meal planning tips and easy-to-make healthy recipes. Displays at the end of the store aisles include recipe cards and the necessary ingredients for those dishes.

"We've condensed and distilled our experience, our nutrition expertise and our knowledge into a very simple way of understanding good food choices," Ard says.
The program is supported by the Community Foundation of Greater Birmingham and the Susan Mott Webb Charitable Trust.
"We live in a state – and a country – that really suffers from issues with obesity," Ard says. "The goal of the EatRight Nutrition Guidance System is to help individuals make better choices that can lead to a healthier community. We want to help people understand that healthy choices are available."